Days are passing so fast now since Yoga's around… 🙂
I haven't even shared how he went here in the first place.
It all started last year when I had arrived in The Hague. We discussed on when would be the best time for us to meet and where. We decided he would visit me in February, and later next year it would be my turn to visit him at Yekaterinburg.
For his visit, he'd need a visa and I would have to send a sponsorship letter. I sent him the letter by post, not by courier since I'm a cheapskate, on December 23rd. It was supposed to arrive within ten days… but the Christmas break in the Netherlands, plus a much longer New Year break in Russia, delayed its arrival. It took almost a month of anxiety (me asking him everyday, has the letter arrived? should I send another one?) before the letter finally arrived in the city-by-the-foot-of-Ural-mountain. It was not even delivered to Yoga's dorm, he got a letter from the post service to pick up my letter in post office.
Anyway. Next step was applying for visa in the Netherlands consulate. It was already the third week of January. The process was pretty fast, about 7 working days. But it was another week of anxiety, I'd already thought of plan B: meeting in Turkey, where both of us will not need a lengthy process of visa beforehand, a drawback of being citizens of Indonesia *sigh* — we'll still need visas on arrival, though.
Then, he bought the flight ticket. He told me he'd arrive at February 7th. So I bought plenty of IFFR movie tickets for the weekend before his arrival.
On Friday, February 3rd, Yoga called my cellphone. I was in a hurry, going to the train station to catch the train to Rotterdam, so I didn't pick it up. Later at around 12 pm, when I was on the train, I texted him to ask what was the call about. "I'm eating in the BijClarence, not far from ISS," he replied.
Say WHAT?
Oh dear. What a surprise — for me, and for him, too. Hahaha. He told me he'd arrived at around 10 am in The Hague. He went around the city for a while before having his lunch, he said. (I imagined him walking around like a lost boy.)
I got off at the next station, Delft, and took the train back to The Hague. To finally hug and kiss him again, after 15 months apart.
Oh, and for the first time, he gave me roses. Too late is always better than never, no? 😀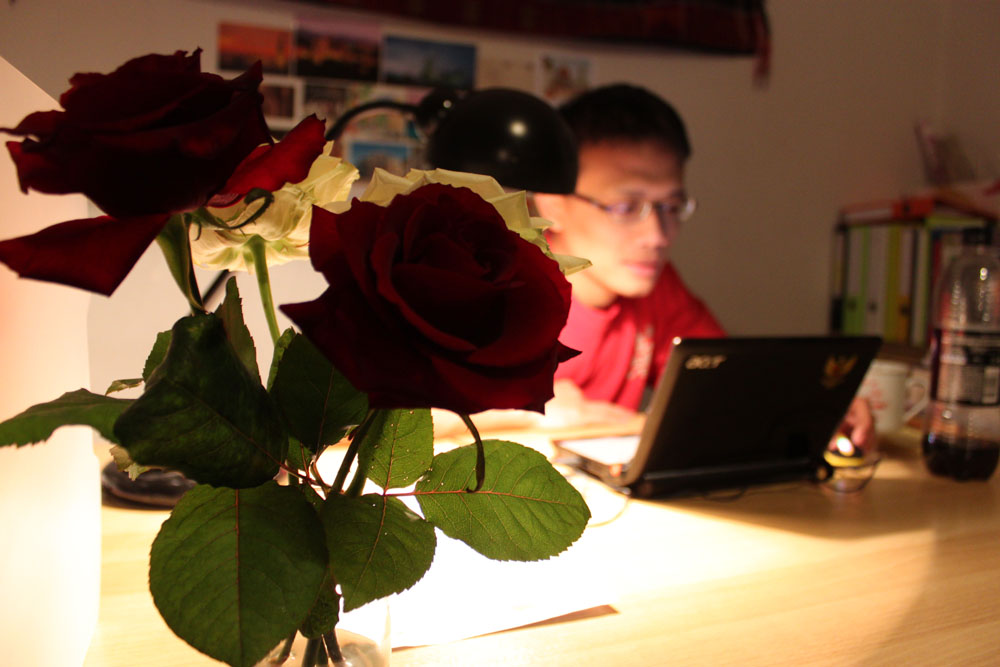 Since then, it's been a joyride. 🙂
(At the very same day, I dragged the jetlagged guy to accompany me to see two movies in IFFR, Rotterdam.)
Komentar via Facebook | Facebook comments