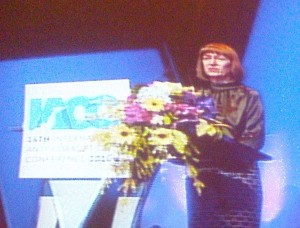 Natalia Nikolaeva Magnitskaya never expected to lose her son, a corporate lawyer from Russia, Sergei Leonidovich Magnitsky. She always hoped that Sergei will be a great man and achieve his goal.
But Natalia stumbled upon fate: her son was arrested for revealing state bigwigs' tax fraud worth U.S. $ 230 million, then died in custody due to severe illness without proper medication. Sergei, 37 years old, died 16 November 2009 after 11 months in jail, just a few days before the one year limit that he could be held without trial would expire.
'He was a man of dignity, and prison didn't change him,' said Natalia with a gloomy face when receiving the Integrity Awards for his son last Friday.
Wearing a dark green dress, while reading his speech, Natalia's lips were always curled, almost looking like an inverted U. Sadness radiated from her eyes, which seemed to have run out of tears to cry over her son's death.
She said, when Sergei was jailed, there were offers to 'reconcile' with the officials. But her son refused.
Sergei's death changed the law in Russia. Now Russia bans the jailing of tax offenders. 'I hope there no more mother in Russia live what I live. His son [will] be proud of his father. He will always be in my heart,' said Natalia.
Tragic stories for the sake of upholding the integrity happened (and still happens) to other people as well.
Another Integrity Awards recipient, Sri Lankan journalist Attotage Prema Jayantha, was tortured for exposing the injustice in the health sector, education, and transportation his country. The media freedom activist, more widely known with his pen name Poddala, revealed the biggest tax fraud in Sri Lanka, worth RS 3.6 billion (about U.S. $ 37 million), in his report.
June 2009, Poddala was kidnapped and tortured by unidentified men who accused him as a traitor of the state. The veteran journalist was then dumped on the roadside in a pathetic condition. The kidnappers broke three of his fingers, so he would not be able to write news anymore. His leg and ankle were also broken. He is permanently disabled and now must live in exile.
But there's always a hope for integrity and anticorruption activists. Another Integrity Awards recipient, Gabon activist Gregory Ngbwa Mintsa, who together with other activists filed a legal complaint before the French Public Prosecutor against three African dictators, President of Congo-Brazzaville Dennis Sassou Nguesso, President of Equatorial Guinea Teodoro Obiang Mbasogo, the late President of Gabon, Omar Bongo Ondimba, and their families. They were accused of having luxury properties in France, which allegedly were paid by corruption.
Despite threats, imprisonment and a freeze on his salary, Mintsa refused to drop the case. The good news is, the French Supreme Court has ordered investigators to work on Mintsa's claims. This is the first time for the French court to judge so.
Of the three Integrity Award recipients, only Mintsa could come to the ceremony.
'Corruption is a robbery to humanity. I believe corruption should be a crime against humanity under international law. Do not give red carpets for corruptors,' he said during a speech in front of more than 1,100 participants of the 14th International Anti-Corruption Conference who attended the Integrity Award gala dinner.
What will you do when upholding integrity might cost you your life?
This post is also available here.
Komentar via Facebook | Facebook comments