After four nights in Firenze, we went to Pisa today. The practical reason is because our flight tomorrow will be at 6.30 am from Pisa, so it's more convenient to stay this night here so we don't have to rush ourselves in the wee hour to go from Firenze. And yeah we want to see the famous leaning tower, of course, it's not really far from Firenze anyway — Pisa is an hour away by train from Firenze.
We arrived at the town at 12 noon, two hours earlier than our check in time in a B&B (bed-and-breakfast) near the tower. We decided to head straight to the B&B anyway, to store our luggages first before exploring the city. But the B&B has no reception and we could not enter it at all before 2 pm… so we dragged our luggages to Piazza dei Miracoli, where the main attractions of the town are. It seemed we were not the only ones with the not-check-in-time trouble, there were several tourists dragging their luggages to the Piazza as well.
A photo-op session with the typical pose of tourists — pushing/leaning on the tower — made us hungry so we went looking for Osteria I Santi which was recommended by the guidebook (we tried two recommended places to eat in Firenze and both were fabulous). Unfortunately the restaurant was closed so.. we ended in a Kebab stall instead. Haha.
My parents, who didn't want to climb the bell tower, went back to the B&B to leave the trunk and backpack, while I went straight to the tower. There were only 296 steps, pretty easy after Duomo of Firenze and Domtoren of Utrecht. The marble steps were a bit slippery but okay, and I didn't feel that it was tilted. Once I reached the 7th floor, where visitors could go to the outer terrace, it surely obvious that the tower was really tilted. It's even more obvious on the top of the tower! Pictures are still in my camera, here's one taken with my cellphone from inside the Opera Museum: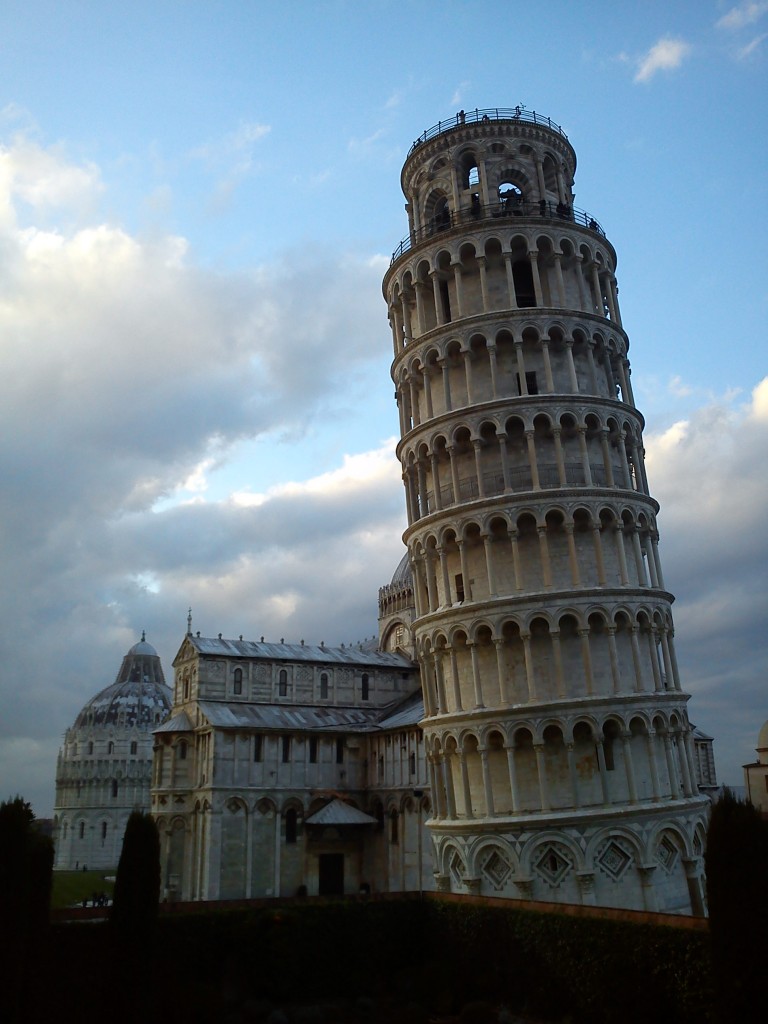 The baptistry, the largest in Italy, was austere and kinda bare but the acoustic was interesting. The architecture makes every sound will be echoed and amplified so much that the guards keep telling everyone to be quiet (and they were pretty stern on visitors, they kept "SSSSHHH"-ing people when I was there). However every 30 minutes there are echo demonstrations: one of the guard will sing several tunes and we can hear how it will be echoed.
More stories and pictures in the future…
Komentar via Facebook | Facebook comments