Kuli dziko lam'ntendere kutsidya ilo lanyanja ndikokulitu m'ntendele
(there is a peaceful land on the other side of the lake and there is freedom)
Ukokulibe nkhondo kulibe usiwa kuuli mpumulo
(where there is no war we going to rest)
Oh Africa woloka
(oh africa crossover)
Tisiye kusakhana mitundu ku sakhana zipembedzo tikafike kutsidyako
(let's stop discrimination, racism and let's all get there)
Siyani zida za nkhondo pansi tikafike kutsidyako tikapeze mpumulo
(put down the weapons of war and let's all get there )
Oh Africa woloka
(oh africa crossover)
Aye mama woloka Africa
(aye mama crossover africa)
—- Woloka Africa by Mafilika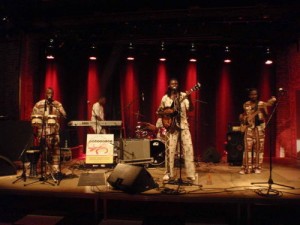 "This guy is better than Jimi Hendrix!" Marcelo Soares of Brazil, 33, shouted during Mafilika's performance in the BeursKafee, Brussels, Belgium, last week. His finger pointed on Ernest Ikwanga, the lead vocal and guitar of the band consisting of five great musicians of Malawi.
Paul Chawinga handled percussions, Samuel Mkandawire was on keyboards, Jizammy Lingani sticked to his Bass Guitar, while Amos Mlolowah was busy with his drum.
I have to confess that I don't really understand music. I can't play any instrument, I don't know a single chord of guitar or piano, I don't really know about Jimmy Page nor Yngwie Malmsteen, which one is better, well I don't care anyway.
My definition of good music is simple: something that can move me to sing (or at least hum) along and dance. And damn, Mafilika's doing it GOOD.
The BeursKafee wasn't full, the whole crowd count might be only 60-something. But Mafilika was certainly able to raise the temperature. It was hot cause we just couldn't stop enjoy their music.
I think none of the audience understand Chichewa, the language Mafilika's using. But hell, music does transcend any language and cultural boundaries indeed.
Marcelo danced, I saw Deogratias Munishi really enjoyed the night and danced, I danced, we danced, the crowd was crazy for Mafilika.
I didn't count how many songs Mafilika performed, but everyone was shouting, "MORE! MORE! MOOOOORE!" when Mafilika reached their final song. And they were so kind they decided to play another song for us.
Two days later, still in BeursKafee, Mafilika along with Katya Emmanuel and I-Voice performed a new song written for the anti-corruption movement, titled "Together Against Corruption." It was great.
But even greater was their performance that night, on a stage in front of St. Catherine, in the Brussels Jazz Marathon. They moved audience, not only us the Global Youth Anti-corruption Forum herd, but other music lovers as well, to dance our hearts away.
"I feel like I'm fifteen again! When I grow up, I want to be like them!" Marcelo shouted again that night, grinning, sweating after dancing again.
It was so sad when their performance ended, and we all had to go back to our own countries.
But I'm happy to know that I've encountered a really great band (and I bought their CD happily as well).
Ah by the way, for those who want to know more about Mafilika, you can visit their pages in facebook or MySpace.
Here's what they said about themselves in MySpace:
"Mafilika is a five-piece band from the Malawian capital Lilongwe. This Afro-Rock-Reggae group was established in 2007. In 2008 the band won the National Finals of the Music Crossroads competition, qualifying to represent Malawi at the Inter-Regional Finals in the Portuguese Club competing against bands from Zambia, Zimbabwe, Mozambique and Tanzania.
Their performance so impressed the Dutch International tour promoter Karla Hoffman that Mafilika were booked to play a 17 concert tour in The Netherlands in Spring 2009 by Mundial Productions. The tour was a resounding success and the band are looking forward to returning to Europe in 2010.
Mafilika have also performed in Maputo, Mozambique, perform regularly in Malawi and will this October be playing at the county's biggest International Music Festival, Lake of Stars. The band released their debut Cd "WOLOKA AFRICA" in May 2009."
Komentar via Facebook | Facebook comments