What's better than blogging about food when you're fasting and getting nuts thinking of the thesis? Ha.
Here's a peek on what I tasted during the summer school week in Barcelona. The city is not cheap, but after The Hague, every place seem more affordable to me. Being touristy, my check list consisted of sangria, paella, and tapas.
Iva and I had our first sangria on our way down from Parc Guell. We were tired after a day full of walking to see Gaudi's works around the city. The sangria was a tad bit too sweet but we didn't mind.
That night we went to La Barceloneta to get our first serving of seafood paella. Originally we wanted to try one in a restaurant suggested by TripAdvisor, but the price tag was beyond our student budget so we strayed into another restaurant. For my Asian taste, it was too bland. I wish I brought my chilli, like when I travelled to Italy.
The next day, after queuing for 1,5 hours in the Picasso Museum, I tried a vegetable pastry in the cafe. It was delicious! The crust was crispy and the vegetable mix inside was spicy enough. Even without any chilli, hahaha. It is labelled as Volca Pate Campanya.
That day seems to be destined with the best food of the trip. After paying tribute to Picasso, we wandered around and decided to dine at Allium. We ordered delicioussss tapas sampler, which is a mix of six different tapas: tuna salad with bread sticks, spicy chicken (too hot for Iva), potato croquettes, chicken sausages, goat cheese with olive oil, plus a small plate of grilled pepper, sausage, and the cutest sunny-side up egg I've ever seen; vegetable tagliatelle with crisp cheese, and coulant (chocolate lava cake and vanilla ice cream) for dessert. Heaven.
After the end of the first (or second? I forgot) day in summer school, with other Mundus MAPPers I went for a fun dinner near IBEI. Yummy paella and several kinds of tapas: I only remember patatas bravas (fried potato with spicy sauce), pa amb tomaquet (bread smeared with tomato), and chicken croquettes.
And of course a jug-full of sangria! It was nice and refreshing.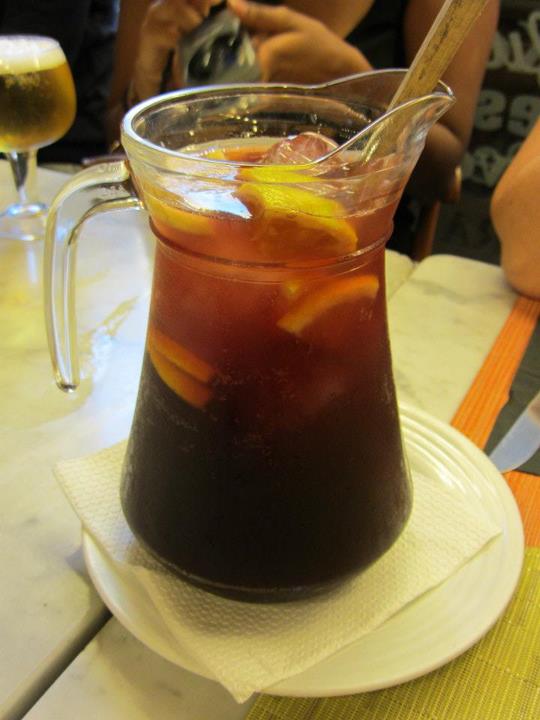 Some days after that, Iva and I ventured into Placa Reial at night and discovered amazing ice creams in Artisa.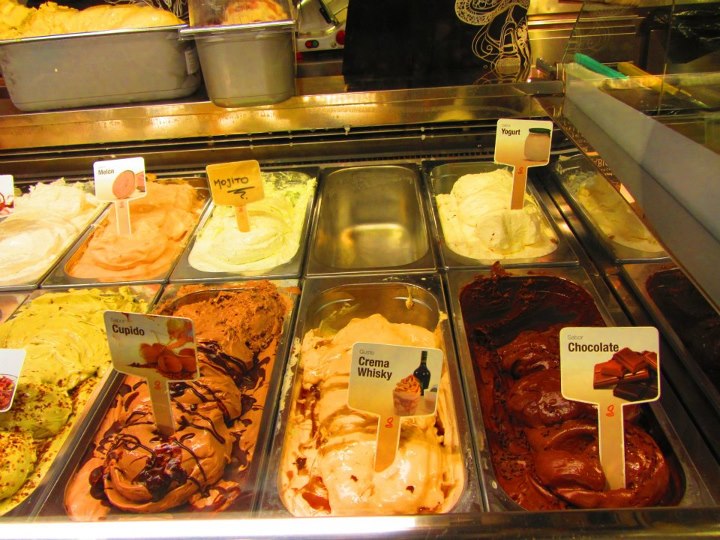 In the last night, I wanted to treat myself and went to Tapeo, which sat on the fourth position in TripAdvisor. The place was full so I had to wait for around 20 minutes. The pa amb tomaquet was a bit too salty, the fried rabbit (my first time to try rabbit, btw) is okay but not special and I was kinda disappointed that they had no chilli (well maybe it's an obsession of mine), the best one was actually the grilled green pepper.
I also ate at Wok to Walk twice, even though it's a chain fast food that I can also find in Amsterdam, hahaha. What can I do, their spices are just like the ones used by the fried rice/noodle in street stalls back home…
Komentar via Facebook | Facebook comments