Arrived in Firenze tonight, and had to face a misadventure for a while: we could not contact the apartment owner's employee! The apartment owner lives in Milan so he should send someone to deliver us the key.
But unfortunately dad's cellphone could not contact that person while mine was.. out of credits, hahaha. We tried to use the payphone in the train station but they didn't work — or perhaps more accurately, we could not understand the way it should work. So we decided to walk to the apartment, which was pretty near from the station, only around 15 minutes by foot. But there was no one there! We met an old lady who went out of her apartment but she could not really help as she did not understand English.
Finally we went to a restaurant to have dinner there (the margharita pizza and pomodoro spaghetti were just okay but the tiramisu was marvellous) and borrow their phone. It worked.. 🙂 30 minutes later we met the courier. It turned out that we should add 0039 before his phone number.. pfff we thought the number we had, 033xxxx was already with the country prefix.
Anyway, we had to climb four storeys (!) of stairs before we arrived at the apartment. The courier was somewhat unpleasant in the way he told us about what to do and what not to do in the apartment ("don't touch this, don't touch that, don't touch blahblahblah"). Good thing the apartment has the view of the illuminated Duomo and its campanile from the window, albeit a bit hindered by roofs of other buildings, to entertain us.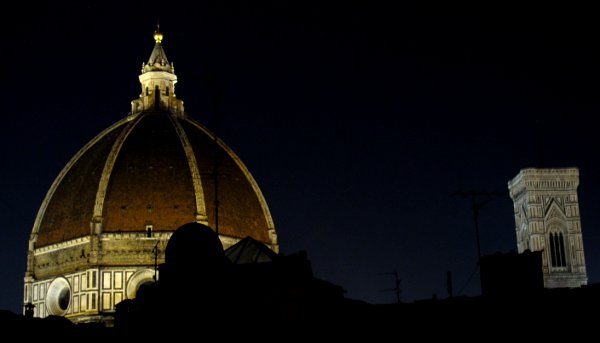 At the end of a 20-minutes of instruction, the courier said goodbye to us. Well actually he said to me, "Ciao, Bella." Bye, beautiful? Hahaha. Oh well, a typical flamboyant Italian!
Komentar via Facebook | Facebook comments