Last week I visited Fuji, a Japanese restaurant which is said to be among the best ones in Budapest. It was during an event called restaurant week, when several not-so-cheap restaurants provided 3-courses menu for only 3,300 forint (approximately 12 euro or 148,500 rupiah). I haven't eaten sushi for so long, the last time was last July in Jakarta (aaaah I miss Sushi Tei's affordable yet delicious sushi), so I decided to give it a try.
The place is quite far in the hills of Buda, I had to take two trams and a bus to get there. It sits in the middle of wealthy residential area. Of course their patrons are the ones who have their own cars.
I went into the spacious restaurant and picked my seat near the sushi bar. A waitress came swiftly to give me a hot towel for my hands and to offer me two different menu, one with fish and one without fish. Which was kinda weird because how can you eat at a Japanese restaurant and not eating fish? But apparently people have different taste and maybe not everyone loves fish as much as I do. I picked the first one, of course. Plus a glass of cold green tea priced at 750 forint (2.7 euro, 33,000 rupiah) — drink was not included in the menu.
Then the cold tea came.. in a can. I was shocked and asked whether it was what I ordered. She said it was. Oh well. In a nice restaurant, for the price of 750 forint, almost as much as my daily student lunch fare, for sure you get something freshly made? Not out of a Pokka can which is not even made in Japan but made in Singapore and even labelled with some Indonesian words? Oh well. I might be exaggerating, but for me it was scandalous. It was a bad start.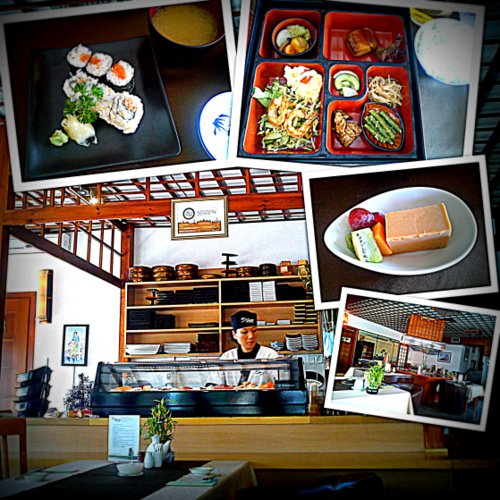 However, what came later did not disappoint me. A plate of salmon sushi maki and boiled tuna sushi maki was served as the appetizer. I wish there were more salmon than boiled tuna, but it was ok. Then came the bento box with shrimp and potato salad, a tiny bowl of hot vegetables (kisetsuyasai no nimono), assorted steamed vegetables, and grilled butterfish (ibodai teriyaki). It was my first time eating ibodai and it was delicious. Last but not least was the dessert, fruit with wagashi, which seemed simple but tasted really good.
After I paid, the waitress gave me a card which would entitle me 10% discount in the next visits. Um, perhaps I'll be back. Perhaps…
Notes on sushi (and sashimi, which I miss as well): I'll definitely try other places in Budapest. Please tell me if you're also interested! 🙂
Komentar via Facebook | Facebook comments