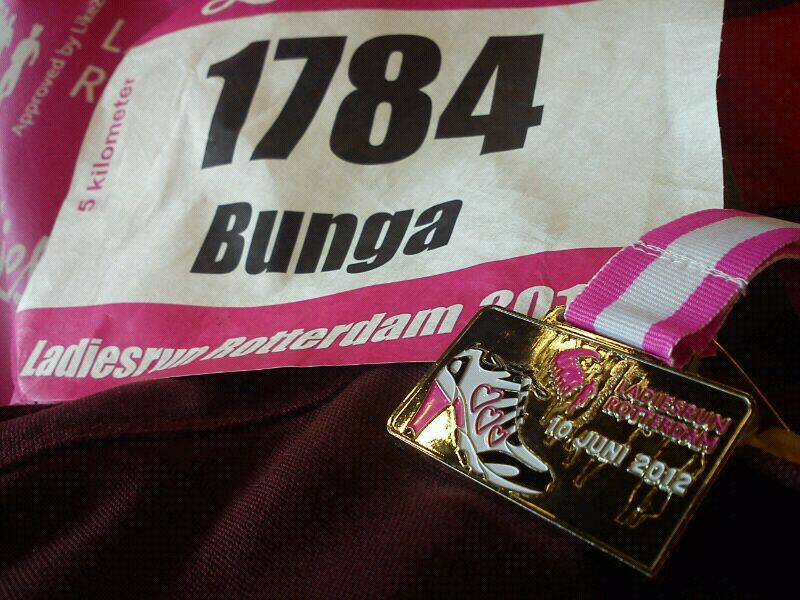 Three months ago when I registered for the Ladies Run in Rotterdam, it seemed like a very good idea. Nothing ambitious, just 5 km. It was after the ABN-AMRO Run in The Hague, when lots of ISS students participated in the 10 km and half marathon. But these last couple of weeks was totally getting me crazy with assignments and thesis, so I was totally not enthusiastic about the run. I didn't even train myself for the run. I only jogged once this week, on Wednesday, for 4 km only.
However when along with ISSers Vera and Aleisha (who would run 10 km), I arrived at the venue, we became really carried away with the positive, fun, uplifting spirits! Pink was everywhere as the run was also designed to raise awareness on breast cancer. The sky was clear, the sun was blazing hot upon us (it's always welcome though, much better than the rain!).
I was really slow — according to the results published in the website, it took me 42 minutes 40 seconds to finish the run, my speed was approximately only 7 km per hour. I was the 3569th to finish out of 3591 runners! Hahaha. But it's nice to see people cheering for us, giving support when we felt tired along the way.
At the end, everyone got a medal to commemorate her achievement. And I'm happy to do something completely out of my comfort zone.
Komentar via Facebook | Facebook comments