Sending a link of airbnb hostel to my mom resulted in me to list Bumi Bunga B & B, my parents' bed and breakfast, in the room-rental platform. The B & B is actually not really seriously-run (yet), more like a future not-so-passive income for us.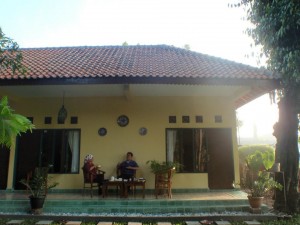 We offer three rooms, built on our beautiful front yard, in the outskirt of Jogja. It's around 6 kilometres away from the city centre, merely 15 minutes by car or motorbike. It's perfect for those who are looking for tranquility, yet the city centre is still easily reached. Bumi Bunga is also near one of the most prominent cultural centre Padepokan Seni Bagong Kussudiardja.
Yogyakarta a.k.a. Jogja, the city where I was raised, is the best city in the world (a subjective statement, of course). The people are friendly, tolerant, educated, and the city is brimming with cultural life. Its nickname in Indonesia is the education city, as it hosts numerous high-quality universities and high schools — much more than other cities in the country. It bleeds history — Jogja was the center of ancient Mataram Kingdom which built Borobudur Temple, once the biggest Buddhist temple in the world. 600 years later Panembahan Senopati established the Islamic Mataram Kingdom, and the city prospered, even under the Dutch colonial rule. The Sultan of Yogyakarta proclaimed the kingdom as part of Republic of Indonesia in 1945, and the city once became the capital during Dutch aggression in 1947.
Anyway, before I talk too much about history of Jogja, here are the link to the listings in airbnb:
Anyelir (carnation) room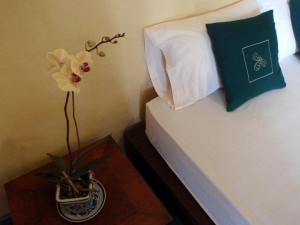 Bakung (daffodil) room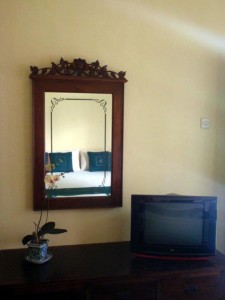 Cempaka room (as far as I know, the fragrant flower has no English name)

You can also check the website, facebook page, and twitter.My super-awesome cousin Dynna is currently managing the facebook and twitter of Bumi Bunga.
So… when will you come and visit us? 😀
Komentar via Facebook | Facebook comments