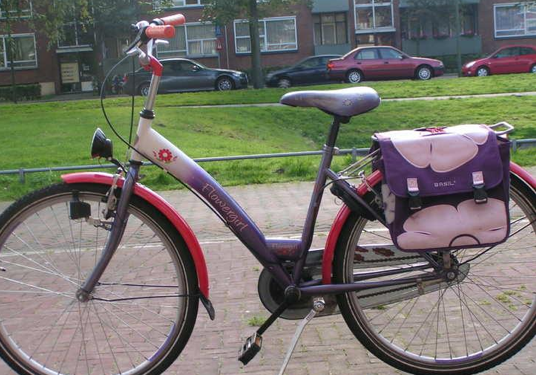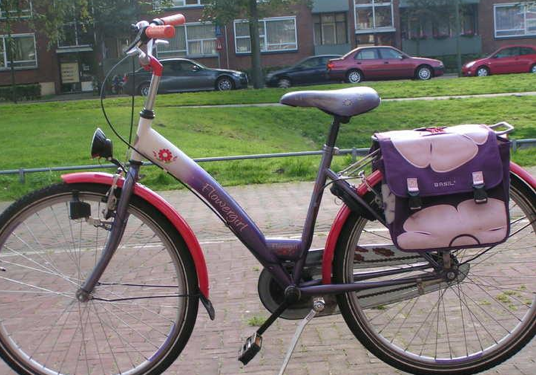 My bike is gone… 🙁
I parked it two days ago near the Central Station, when I had to take the train to Amsterdam to see my friends. This afternoon I went back to fetch it, but it was not there any more. I did lock the tire lock and chained it to a permanent, sturdy, lamp post as usual, but this time, it did not work. Unlike when once I parked it near Den Haag HS then left it two nights for Berlin, or another time at Central Station for Amsterdam.
After ten months using the flowery, girly, purple bike, I feel devastated to realise finally, I experience the typical Dutch experience: losing your bike. So I'm now the one of the "one of twenty bike owners in the Netherlands who lost at least one bike."
It was not cheap for me. 80 euro from Marktplaats, the Dutch reliable second hand website. It was Dandy, an Indonesian from the old batch, who helped me to pick it up in some distant city.
It was perfect for a short person like me, with sturdy frame, completed with a very functional bag on the back side of the bike. Having a bike truly enhance my mobility. The Netherlands is perfect for biking as it has flat contour with plenty of designated bike lanes all over the country. My bike has brought me all around The Hague, to the city centre, to the parks, to the train stations, including when I had to dart from embassy to police office immigration office to embassy to take care of my lost passport.
I don't know whether my bike has a frame number, so there is no way I can report it to the police.
I only have less than a month left in The Hague before going to Budapest. Bike-less. And gone is the prospect to re-sell it when I go. Pffff.
Oh well. Bye bye, bike.
Komentar via Facebook | Facebook comments