Have you ever met a bunch of great, brilliant people over and over again but have next to no idea about their professional lives and passion? I have — with friends who are alumni of Erasmus Mundus (now Erasmus+) scholarships. We have met many times but usually only related to events promoting the scholarship program, either pre-departure event or European Higher Education Fair. Some get closer to other alumni, sharing curhat (venting personal problems :D), hanging out together and all, although some other may not.
Thanks to Erasmus Mundus Association (EMA) Country Representative, Ira Yulianti Purnomo, and the alumni who volunteered to organize the event, for the first time we had the chance to find out what other alumni are working on, through the EMA Talks today. We were lucky to have the talks in Nutrifood Inspiring Center, which lend the uber-instagrammable venue for non-profit organizations (even better: the venue also supplies yummy hot chocolate, ginger drink, low-fat caffe latte, and mineral water ftw).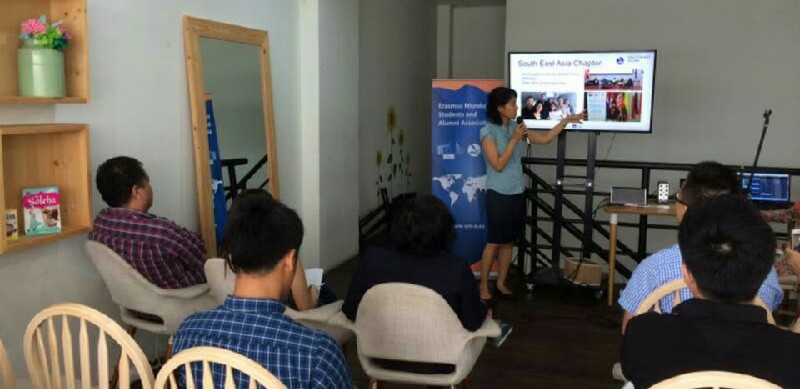 After the talks, now I know that we can count on Tanto as the next Minister of Tourism (he's now the staff of the current minister), on Mas Ihsan for psychological advice (he'll speak on coping with depression next Monday in the Ministry of Health), Olin for stories about the President Advisory Council, and Argan on Siemen's energy products. Ask Mbak Eva on good environmental practice, Daniel on corporate strategy, Gemawang on research-based architecture, and Annisa on her great environmental board game, ecofunopoly. I share some stories on my experience with churning words, too — you can check the prezi here.
In addittion, Pak Rahmat from McKinsey & Co. shared his experience on working with the company, what he'd usually seek from applicants, and some practical tips on passing through recruitment (show that you're good in problem solving, quantify your contribution for past employers in your resume, and make sure your resume is only 1 page!).
It's weekend and of course I came with my son, RK, and my dearest husband, Yoga. RK played with his toy cars at the back of the room and was quite noisy sometimes so I really appreciate friends who can tolerate us hehehe. Being a mom who also wants to do networking is quite challenging so I'm lucky to have enabling environment like EMA and of course Yoga 😃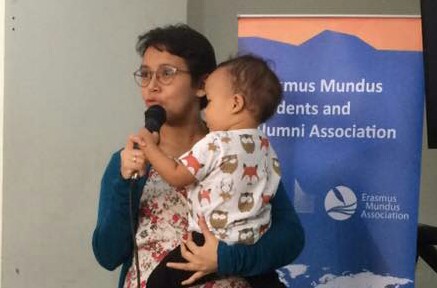 I wish we could stay until the end of event but alas, my little boss already said, "Puwang, puwang (pulang/let's go home)!" — so we had to leave early. Nevertheless, we really enjoyed the event and wish to join the next one for sure!

PS. Group picture and picture of me holding RK while speaking were copied from EMA Whatsapp Group.
Komentar via Facebook | Facebook comments