I can never get enough of art nouveau, jugendstil, modernisme, sezessionstil.. or szecesszió, the Hungarians say. I'm definitely not an artist, nor an art expert neither an architect, so don't expect me to know or explain much about it. I simply appreciate its beautiful organic curves, the interlocked flora and fauna, as well as the fine women commonly featured in the works. So yeah, no art deco for me, please 🙂
Right when the 19th century was turning into 20th century, Budapest was expanding rapidly due to the economic boom. It was the exact moment when art nouveau movement was gaining momentum in Europe, so it made perfect sense that buildings with szecesszió styles found their way to Budapest. According to an architectural tour guide, Julius Palacinka, most art nouveau buildings are in the districts 5, 6, 7, 8 and 13 of Pest, and the area around the Bartok Bela útca in Buda. (Buda, west of the Danube river, and Pest, east of the river, were two separate cities — which along with Obuda — were united into a city named Budapest in 1873.)
Unfortunately, not all of szecesszió gems are well-preserved. Rebecca Tinsley in Huffington Post argues it is due to a mix of dire financial condition of the communist years, a label of bourgeois decadence, and anti-Semitic subtext (later she praises the corporations which successfully restored art nouveau buildings…).
Anyway. Google art nouveau Budapest and the name Ödön Lechner will pop up for sure. As one of the pioneers of szecesszió in Hungary, he is considered on par with Gaudi, and some even label him the "Hungarian Gaudi". By some, it means more than just Wikipedia, ok.
He mixed Magyar folk motifs, like the colourful kalocsa flowers, with oriental ones, since the Magyars were supposedly a tribe coming from the east. That is why the design for Postatakarékpénztár, or the Postal Savings Bank, built in 1899-1902, incorporates golden waves which remind me of Chinese motifs.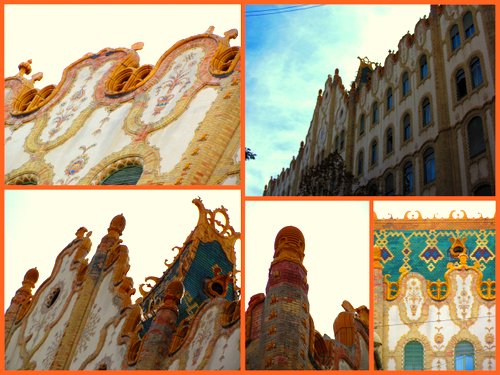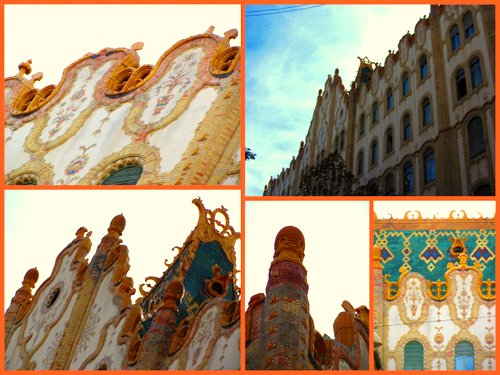 If you look closely, the spikes of the roof are bees' nests, and there are little bees going upward to those nests. Moral of the story: work hard and save like the bees, and you'll get the sweet honey as the reward.
Another striking feature of Lechner is the use of Zsolnay ceramics as roof tiles and decorations. The eosin and pyrogranite processes give the ceramics beautiful colours and durability, but it also means the price tag was hefty. The tour guide who took CEU students around in the beginning of my stay in Budapest said the government never again approved any state projects using Zsolnay tiles.
Perhaps it was because three years earlier, in 1896, Lechner and Gyula Partos had already finished Magyar Iparművészeti Múzeum, Museum of Applied Arts, which also used plenty of Zsolnay tiles and government cash 🙂 This is how the building looks like from outside: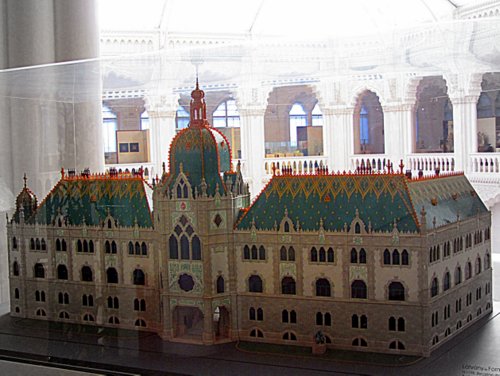 Yeah that's the model of the museum, as exhibited inside the museum. It was under renovation so I couldn't take proper pictures from outside :/ If the Bank was with Chinese strokes, this one took Moorish/Indian motifs.
It's really a fiesta of colours on the exterior. But inside, in contrast, it was all sobering white. With a bright glass-covered inner courtyard. A bit of colours can only be seen if you look up: a stained-glass dome covered the lobby.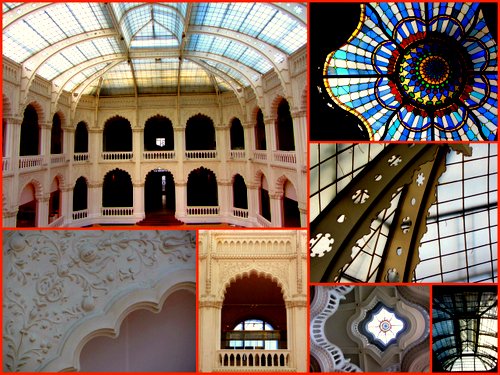 There are many other works of Lechner in Budapest and other parts of (ex) Austro-Hungarian empire. And yes there are many other art nouveau gems I've managed to capture in pictures. I'll sort out and post them somewhat later, when my mood and/or procrastinating habit permit 😀
Komentar via Facebook | Facebook comments